Earlier this September, Woody and Nelsen Funeral Homes delivered over 7,000 American flags to the Virginia War Memorial. The flags were collected from their annual flag exchange program hosted in May.
Dignity Memorial, the parent company for both Woody and Nelsen, offered Richmonders the opportunity to exchange their old, torn or soiled American flag for a new 3′ by 5′ flag. In exchange, the retired flag was promised proper disposal in accordance with the US Flag Code.
"During these difficult times it is more important than ever to demonstrate our unity and determination to prevail during the COVID – 19 crisis," said Lacyn Barton, President of Nelsen and Woody Funeral Homes. "The American Flag represents that American spirit. Each of these well-worn symbols of our great nation represents a home's pride in our country's heritage and its hope for our country's future. They were respectfully flown by families of all income levels, political ideologies, religious beliefs, racial backgrounds and gender identifications: their commonality was, and continues to be, their love of the United States."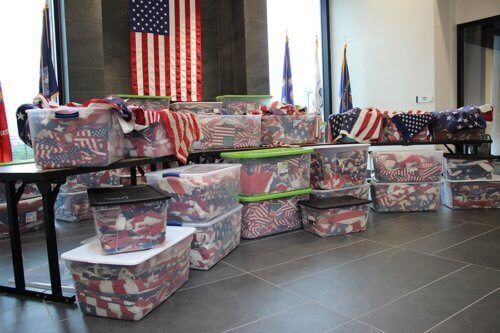 Last year, 1,200 flags were delivered to the Virginia War Memorial as part of the program. Staffers here at the Memorial share the flags with American Legion 284 – Colonial Heights, for proper disposal.
---
The partnership with Dignity Memorial continues through the fall–They are the "Hero Highlight" Sponsor of the TGA 5K!
Make sure you're signed up for the Memorial emails, follow us on instagram, twitter, and facebook, so you can view the Hero Highlights leading up to Veterans Day 2020.