Veterans Art Gallery
Creative Expression Shaped by Military Service
---
We are pleased to be able to offer regular exhibitions of Veterans Art in the C. Kenneth Wright Pavilion. This space is a natural extension of our efforts to provide veterans a safe place, free from judgment and convention, to tell their stories in their own words and images.
---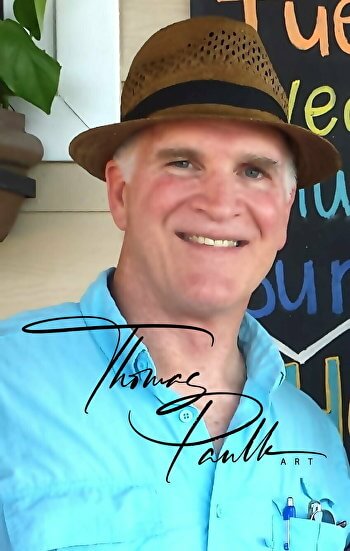 Our newest exhibition is now open.
Dreams of Flight features the artwork of Retired Naval Aviator and longtime Virginia resident Thomas Paulk.
Tom had his "dreams of flight" come true — he was fortunate enough to find a path that led to flying Jet Fighters for the U.S. Navy.
Flying F-4s and F-14s, Tom has been drawn to flying machines and the skies as primary subjects for his artwork. He also has a fondness for sea and cloudscapes. Tom works with Acrylic on canvas, he does some metal sculpting, resin, and is proficient with an airbrush.
An art collector himself, his tastes have been mostly aviation-based, a surprise to no one who knows Tom well.
---
Tom could always draw, but was not a painter until he left the Naval Academy and realized how terrible an apartment wall can look when it is devoid of art and color.
His first painting effort was an experiment, where he enlarged a postcard of a bikini model stepping out of a pool. The result was very encouraging, leading to a few more artistic efforts while on his first tour to Japan, as time allowed.
Most, but not all of his paintings then and since, have had ties to aviation.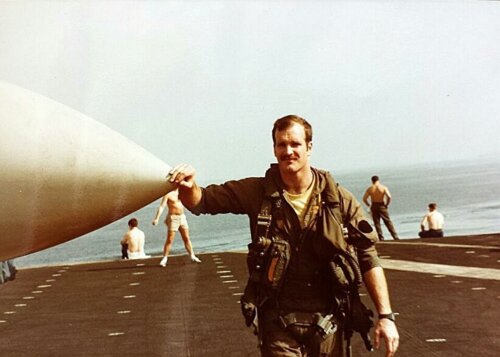 After completing his Navy career, Tom worked in the business world until he recently retired. Now that Tom is able to devote more time to his favorite endeavor, painting and aviation art, he is thrilled to be able to display his work in the Memorial's Veterans Art Gallery.
A resident of Chesapeake, Tom joined the Southside Artists Association, and the American Society of Aviation Artists (ASAA), with the goal of learning his craft and creating beautiful works that would delight collectors.
"I like having a place to share ideas with other artists, brainstorm how to solve problems, and enjoy some camaraderie," says Tom.
He comes from an artistic family, including one of D.C.'s prominent portrait painters, his aunt Kitti Von Kann, He has passed this talent and appreciation of art down to his own daughters.
A self-taught artist, Tom is grateful for the YouTube artists who love to share their knowledge on how to get things done. "We all seek to improve, to learn, and apply that acquired knowledge to our work," says Tom.
Like most other artists, he is on a journey of discovery and expression, and loves to explore color, composition, and technique. According to Tom, one of his shortcomings is "learning to paint without fear." He hopes to have his point of view and his love for the skies show through in this show.
Visiting the Veterans Art Gallery is free and the space is open during museum hours.