Virginia's Annual Memorial Day Ceremony
Updated May 3, 2021:
We look forward to hosting the Commonwealth of Virginia's 65th Annual Memorial Day Ceremony both in-person and online on Monday, May 31st.
As we do every year, we will honor the nearly 12,000 Virginia's men and women who have made the ultimate sacrifice defending our freedom and who served in the United States Armed Forces with guest speakers, patriotic music and recognition of the four names added to the Shrine of Memory in the past year.
Additionally, the awardees of the Marocchi Scholarship and the Armed Forces Day Art Contest will be announced.
---
IN-PERSON ATTENDANCE:
Virginia's Annual Memorial Day Ceremony, held at the Virginia War Memorial in the E. Bruce Heilman Amphitheater every year, is one of our most popular and well attended programs. Due to the changes in State guidance, a small audience will be able to attend.
To help ensure the safety of our visitors and stay within State guidelines for outdoor events, we kindly ask you to submit the Memorial Day registration form below, providing contact information and the number of anticipated attendees.
While we will not have reserved seating, registration is required. We hope your input will help us better anticipate the size of our audience for Memorial Day to ensure space and seating. You will also be informed via email if we make any changes due to weather or updated safety guidelines.
Weather decisions will be made no later than May 28. If the event is moved indoors, it will not be open to the public, and we will be limited to our special guests and essential personnel.
We then encourage everyone to "virtually" attend the event at the listed channels or websites at:
Thank you for your understanding and continued support to our Veterans and the Virginia War Memorial.
Memorial Day Interest Form
---
WREATH LAYING:
Organizations are welcomed to visit the Virginia War Memorial during the weekend or after the ceremony at 12:30 p.m. to lay their wreaths within the Shrine of Memory.
---
WATCH THE CEREMONY FROM HOME:
You may view the Ceremony from home here.
(This video will be live on May 31st.)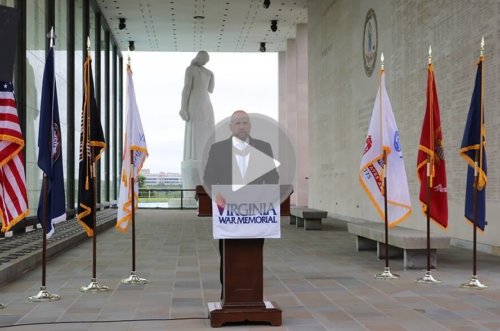 ---
---
MEET THE MEMORIAL DAY GIVING CHALLENGE:
Read the letter from Board Director David Christian, asking for your support, and join us in trying to meet our Memorial Day Giving Challenge of $110K.
GIVE NOW