Where is Tommie Cole–the medic and Richmonder once featured on the cover of Life magazine?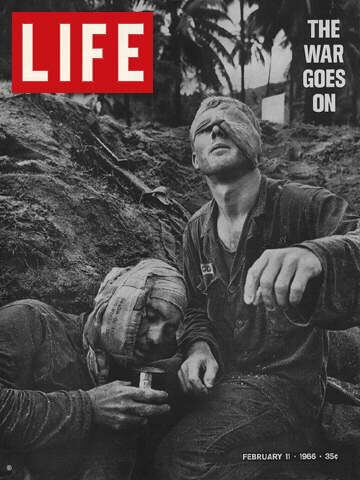 This article by Bill Lohmann was originally featured in the Richmond Times-Dispatch and the Roanoke Times on Sunday, January 31, 2021.
To register for this Livestream program, on February 11th, CLICK HERE.
---
A few years ago, Clay Mountcastle's father, Jack, a Vietnam veteran, showed him a copy of a 1966 issue of Life Magazine — a once wildly popular weekly publication — that he had saved. It featured a cover photograph of a young Army medic in Vietnam, a bandage covering his eyes, tending to a wounded comrade.
The headline read: "The War Goes On."
Besides the fact it was a most compelling, even haunting, image, the photo hit close to home: The medic was Richmonder Thomas (also known as Tommie) Cole, whose fleeting moment of fame — the picture by eminent Associated Press photographer Henri Huet also was published in newspapers around the country, including the Times-Dispatch — cast him in the spotlight briefly and then he was gone. His whereabouts after the war have been a mystery.
Clay Mountcastle, Director of the Virginia War Memorial, got caught up in the mystery, poking around the Internet, seeking clues to what became of Cole. Despite coming up dry, Mountcastle hasn't given up.
On Thursday, Feb. 11 –- the 55th anniversary of the Life cover featuring Cole — Mountcastle is hosting a Virginia War Memorial Livestream program: "Where's Tommie Cole?"
The online-only program is free and open to the public, though registration is required.
"I just started thinking, 'Where is this guy?'" said Mountcastle, who noted the War Memorial's livestream programs have a fairly extensive reach around the country so he's hoping it might turn up something about Cole. "Did he come back to Virginia? What happened?"
It is among the most evocative images from the war, a young, wounded medic who refused to be evacuated, continuing to do his job, seemingly reaching toward a photographer he likely couldn't even see.
"You hear so many vets tell these stories about guys who just served selflessly … just doing their jobs, doing what they were there to do, and he is clearly one of those guys. I think that's why my dad kept the magazine cover. It speaks to him in some way."
***
In 2000, former Times-Dispatch columnist Mark Holmberg went searching for Cole. He didn't find him, but he found some of his story.
According to a story from the 1960s in the newspaper archive, Cole was "left with the Richmond welfare department by his parents when he was 4 or 5 years old and lived with several families in the Richmond area." The earlier story mentioned one of those families — Sidney and Vera Skinner — but Holmberg was unable to find them.
The 1960s news clippings mentioned that Cole had at one time attended John Marshall High School and that he enlisted in the Army in November 1964. Cole was said to have been interested in medicine and had considered becoming a physical therapist. He became a medic with the Army's 1st Cavalry Division, 7th Cavalry Regiment, 2nd Battalion, A Company.
According to an account from AP correspondent Bob Poos, Cole was wounded in a two-day firefight at An Thai, a central lowlands village that was part of the North Vietnamese first line of defense.
Poos wrote: "Medic Thomas Cole, himself wounded in the head, helped tend the wounded, sprawled in the mud of the trench. He was nearly blinded by the bandage wrapped around his head. But Cole kept going, answering the call of a wounded man here, a dying man there. Cole spent an hour in mouth-to-mouth resuscitation trying to revive one terribly wounded soldier. The man died."
Then Cole helped wounded villagers.
Poos, who died in 2008, told Holmberg in 2000 that he well remembered Cole — though he had lost track of him — for "doing a yeoman's job. He was saving a lot of lives. Sharp kid. A real good kid."
Cole recovered and returned to his unit. A few months later, Cole was tending to a wounded sergeant during another firefight when his left arm was shattered by a sniper's bullet. Another round ripped into his left thigh, according to another account Holmberg found.
"I felt something hit me and spin me around," Cole told a combat correspondent, "and the next thing I knew my face was hitting the gravel."
In his research, Mountcastle found a series of photographs of Cole in the AP archives — all made by Huet over a period of months, in the field and as he recuperated — that serves to chronicle a portion of Cole's time in Vietnam. Nothing, though, indicates what became of him after the war.
***
The copy of Life Magazine that Jack Mountcastle showed his son is the second copy of the magazine he's owned. He picked up the first in February 1966 at Fort Knox, Ky., where he was a second lieutenant and where everyone was aware the war was heating up.
"I picked up the magazine because of the young, dirty, but very determined face on the cover," said Mountcastle, who would serve two tours in Vietnam, spend 32 years in the Army and retire as a brigadier general and the Army's Chief of Military History. "I was young then, too, just turned 23, and not too sure about how I might respond if I were ever in close combat like Cole and his comrades. I think that's why I held on to that copy of Life for some time."
Alas, somewhere among the many moves he and his wife, Susan, made with the Army, the tattered old magazine was lost. He said he was "very glad to see a copy offered for sale at an antique show that I attended soon after I returned to Richmond upon retiring from the Army in late 1998."
That's the copy he turned over to his son for the war memorial archives.
"I was very glad to have the chance to re-read the article and to once again admire Henri Huet's photography," Mountcastle said.
Huet was a "very big deal in photojournalism," said Robert Hodierne, an associate professor of journalism at the University of Richmond who began his career as a freelance photographer covering the Vietnam War.
"He was not only a gifted photographer (his work speaks for itself) he was just a delightful guy," Hodierne said in an email.
Hodierne was — by his own acknowledgement — "a green-as-grass, 21-year-old freelance photographer" in 1966 when he first met Huet, who was born in French Indonesia.
"I will always remember how kind and generous Henri was with advice — advice not just on how to take pictures but also how to navigate life in Vietnam," Hodierne said. "Because he was half-French and half-Vietnamese, he had an understanding of the culture better than most."
The intrepid Huet's combat photographs no doubt informed and influenced American public opinion. In 1967, he was awarded the Overseas Press Club's Robert Capa Gold Medal for the "best published photographic reporting from abroad, requiring exceptional courage and enterprise."
Hodierne left Vietnam and returned for a second tour — a gap of about 18 months. Just back in the country, he was walking down a Saigon street, when a car passed him, performed a U-turn and pulled up alongside him. It was Huet.
"'Where have you been, Bob?'" he asked Hodierne, who was flattered he even remembered him. "I don't believe there was a journalist in Vietnam who did not admire Henri and like him. I'm not sure I can say that about any other of the journalists."
On Feb. 10, 1971, a day short of five years since his famous Life magazine cover shot of Cole, Huet and three other photojournalists died in a helicopter crash while accompanying a Republic of Vietnam general on an inspection tour of the battlefront. Huet was 43.
***
Joe Galloway, a war correspondent for United Press International, has called Cole "an American hero." (Galloway was winding up the UPI portion of his career when I joined the news agency in 1981.)
Galloway is co-author of the 1992 book, "We Were Soldiers Once … and Young," which recounts the 1965 Battle of the Ia Drang Valley, one of the most savage of the war. Galloway was the only journalist on the ground throughout the fighting with the Army's 1st Battalion, 7th Cavalry Regiment. The 7th Cavalary was also Cole's regiment.
Galloway was quoted in the 2000 RTD story saying, "A whole bunch of us have been looking for Tommie Cole for years."
They never found him, Galloway said last week.
"We tried everything, including writing him a letter and asking the Veterans Administration to forward it to him, assuming he was in their case files as a VA loan recipient if nothing else," Galloway wrote in an email from his home in North Carolina. "Never heard a word back. We came to feel that Tommie Cole did not want to be found by his old battle comrades, and the effort slowly died away. One thing is certain: Tommie Cole was a great combat medic and a true hero. I hope he lives happily ever after."
Clay Mountcastle hopes next week's program might lead to someone who knows Cole — or whatever happened to him.
"I want to have a nice, informative program, but I'm really hoping there's somebody out there who might have some information about him," Mountcastle said. "It would be wonderful if he's still with us and out there somewhere."
And if he is?
"I would love to chat with Tommie Cole about his experiences, about the photograph" Mountcastle said, "and anything else he wanted to talk about."