Wheelchair Accessible Visit in Richmond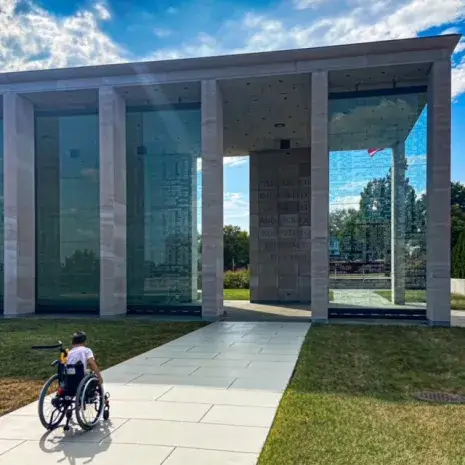 We are happy to share a special blog post from Jennifer Allen, the founder of Wonder Within Reach. Jennifer is a family travel blogger and mother of three children, including one with Spina Bifida. She writes about her experiences and recommendations traveling with her family. On her recent visit to Richmond, she visited the Virginia War Memorial then shared her experiences on her Wonders Within Reach blog.
We are grateful her family chose to visit us during their stay in Richmond, and we are pleased to shared a portion of her blog with you here:
---
We do the finger lakes for wine and waterfalls… Nashville for music… the Adirondacks to immerse ourselves in the outdoors. Pittsburgh is for children's museums; Boston for history; Delaware for beaches; Orlando for the theme parks… you get the picture.
The joy of Richmond is the diversity in all it offers. We experienced vibrant city life, the great outdoors, a diverse food and wine scene, and historic buildings on lush estates – all in one region.
We were in the area for three weeks for an intensive physical therapy program for my son. I figured we'd explore the area for the first week, and then start venturing out to places like Williamsburg and the Natural Bridge to fill our time. We didn't have time to do anything other than Richmond! Three weeks wasn't enough to explore the city, museums, history, and outdoor options.
Since most people don't have three weeks to visit, here are some of our favorite family friendly and wheelchair accessible stops!
---
Virginia War Memorial
I'm going to be completely honest and let you know that we only stopped at the Virginia War Memorial because it was Monday and most other options were closed. I'm so glad we stopped! It ended up being one of my favorite parts of the trip.
This museum was unlike any other that we've visited in that its purpose wasn't to commemorate a war or battle, but rather the people who served.
They do have some neat exhibits on uniforms through the years and a variety of artifacts from war events across history, but the focus is on people. The memorial shares countless names and stories of heroes who have served and paid the ultimate sacrifice. I felt like this was such an important history to be able to share with my children – and something they can't get from a text book.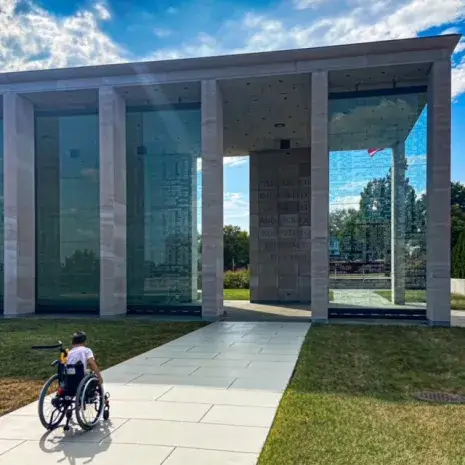 Bring tissues. Apparently they can't keep them stocked, and I was a hot mess!
There is a separate lot for handicap parking, right by the entrance. The building and memorial are accessible throughout. Admission is by donation.
---
Virginia Museum of Fine Arts
Virginia Museum of Fine Arts is another one that may not have made your list for traveling with kids, but let me tell you why it should.
First of all, admission is free. I was blown away by the incredible exhibits they have from around the world and through the ages – for no cost! This is great with young kids because it's not a big deal to make it a short trip, or split the visit up between two days.
The museum is easily accessible by wheelchair.
Second, the outdoor sculpture garden is an absolutely stunning place for strolling (Ha! Or running…) through the grass or stopping for a picnic. It's a great outdoor space in the middle of the city.
(My favorite hack for getting kids interested in art museums is to have them create a copy of their favorite in each room. Bring a pad and pencil and the day is much easier!) 
---
Belle Isle
Belle Isle is such a fun place to explore! Not only are you on an isolated island only available by pedestrian bridges, but there are ruins and structures that are great for little explorers.
The island is accessed by a foot bridge off of Tredegar Street. There's also an entrance on the other side of the isle off 22nd Street, but it's a lot of stairs. Map to the Belle Isle Parking Lot – not the isle itself. Once you park, hop on the trail directly beyond the lot and head to your right. You can't see the ramp from the parking lot, but it's just beyond the trees. The length of the ramp made it a bit much for my son to do independently. The suspension bridge also has small hills.
The main path is made of packed gravel, which I know can be difficult depending on the wheelchair. My six year old uses a manual chair and complained that it was hard to push in some spots, but he didn't get stuck anywhere and he was able to do it without assistance. (You can find more on the trails, here.)
The only downside was that we didn't find any accessible access points to the water.
---
Lewis Ginter Botanical Garden
The children's garden at Lewis Ginter is phenomenal. They have a splash pad, an international village, a hands-on gardening experience, a scavenger hunt (with prizes!), and even a wheelchair accessible treehouse. Unfortunately, the entire section was closed when we visited, but I'd love to return for the full experience.
We were able to experience the butterfly house, which had more active butterflies than I've ever seen anywhere. It's an incredible, up close experience with a beautiful variety of butterflies.
The gardens and buildings all have accessible routes and there are plenty of alluring spaces to roam.
---
To read more about the family and their full visit to Richmond–and other adventures–visit Jennifer's blog at Wonders Within Reach.