What's on the Table?
Looking at Thanksgiving Menus in the Virginia War Memorial Archives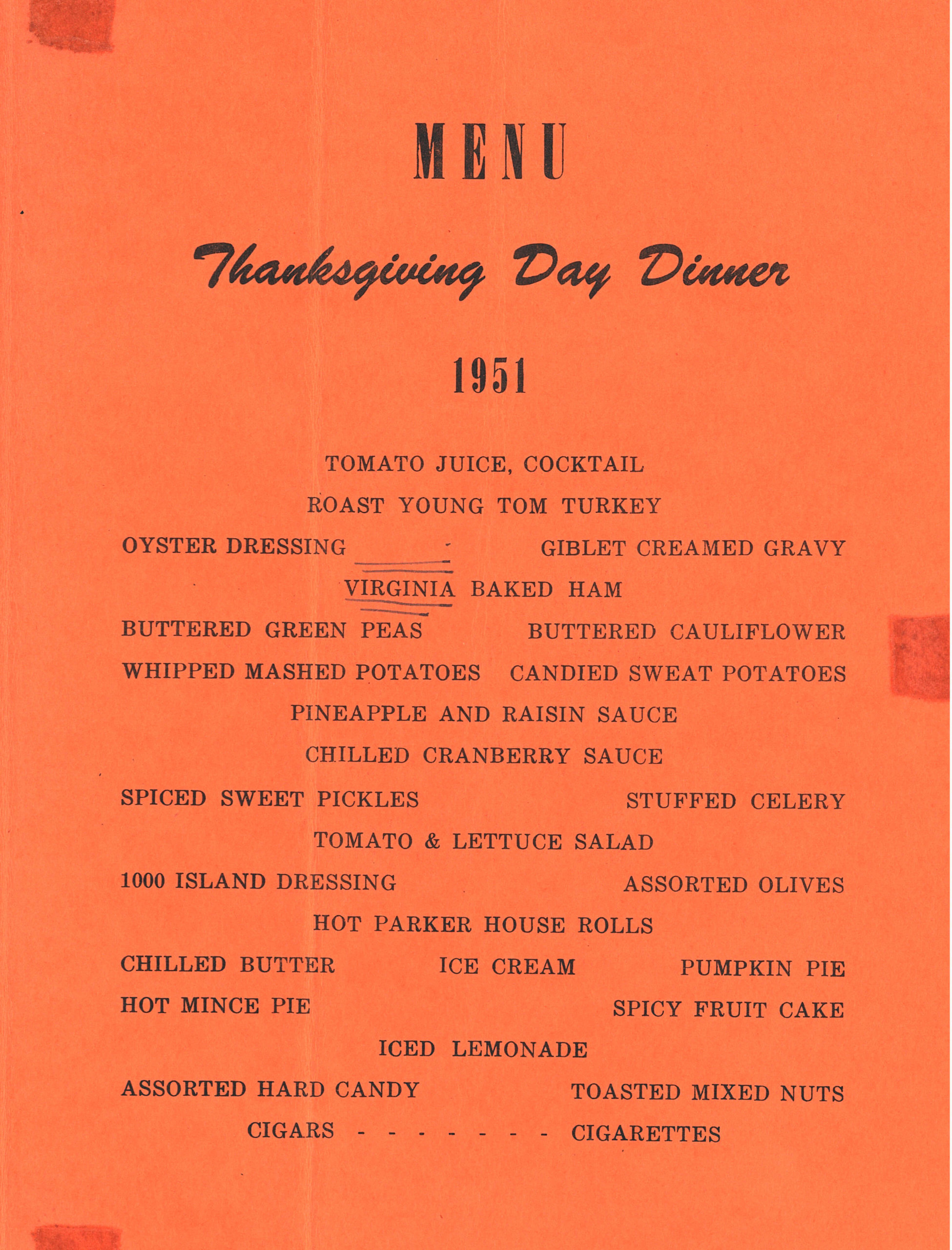 ---
Our country's Thanksgiving celebrations have been acknowledged by our leaders since the 18th century. In 1789 George Washington proclaimed a nationwide day of thanks and prayer. In 1863 Abraham Lincoln issued a proclamation that the last Thursday in November would be a national day of thanksgiving. Today, we recognize the fourth Thursday in November as Thanksgiving.
Here at the Virginia War Memorial, our archives are home to several Thanksgiving menus. These menus illustrate both the change and the constants in the meals our troops have enjoyed on the holiday during the 20th century. Each menu features roasted turkey as the star of the meal, along with dressing, gravy, and potatoes.
It is interesting to note the scope of what was offered, and how these options reflect the culinary expectations and styles of the times. In 1917 at Camp Lee, now Fort Lee, oyster cocktails were served. This beverage consisted of raw oysters, ketchup or tomato juice, lemon juice, and Tabasco. While the other menus in the collection of the Virginia War Memorial do not have cocktail options, there are some that highlight oysters. Oyster dressing was offered on the U.S.S. Yorktown in 1944, on the U.S.S. Birmingham in 1945, and to troops in Guam in 1951.
Some of the dishes presented to troops were named after places perhaps meant to stir a feeling of comfort or patriotism among those who were far from loved ones. Roast turkey "a la Maryland" at sea in 1918; Virginia baked ham in Guam in 1951; baked spiced Virginia ham in 1945; and "Jersey Boy" giblets in 1943 all call attention to specific locations. The ham "a la allies" at Camp Lee in 1917 references the fight abroad to those soldiers serving domestically.
Several of the menus feature a message from the commander. The two Vietnam-era pieces, both from 1967, have messages of similar themes. In one, USAF Colonel George W. McLaughlin notes, "We have found ourselves in a world that does not measure up to our childhood standards…a world in which a basic ideological conflict requires of us many sacrifices and strenuous endeavors." In the example from [insert base], General W.C. Westmoreland wrote to service members, "As we find ourselves half way around the world from home, we should pause for a few moments to count our blessings as Americans. We should never forget that in Vietnam, our actions are defending free men everywhere."
Despite spanning fifty years, none of these menus are far removed from what is served today. Turkey? Check. Dressing? Check. Potatoes and another veggie on the side? Check. Pie? Absolutely. The American tradition of gathering together and offering thanks for all that makes us uniquely American lives on today, both for civilians in their homes and our service members stationed domestically and abroad.
---
Interesting in learning more? View our Thanksgiving Menu Livestream Recording.