USS Birmingham Research Library Catalog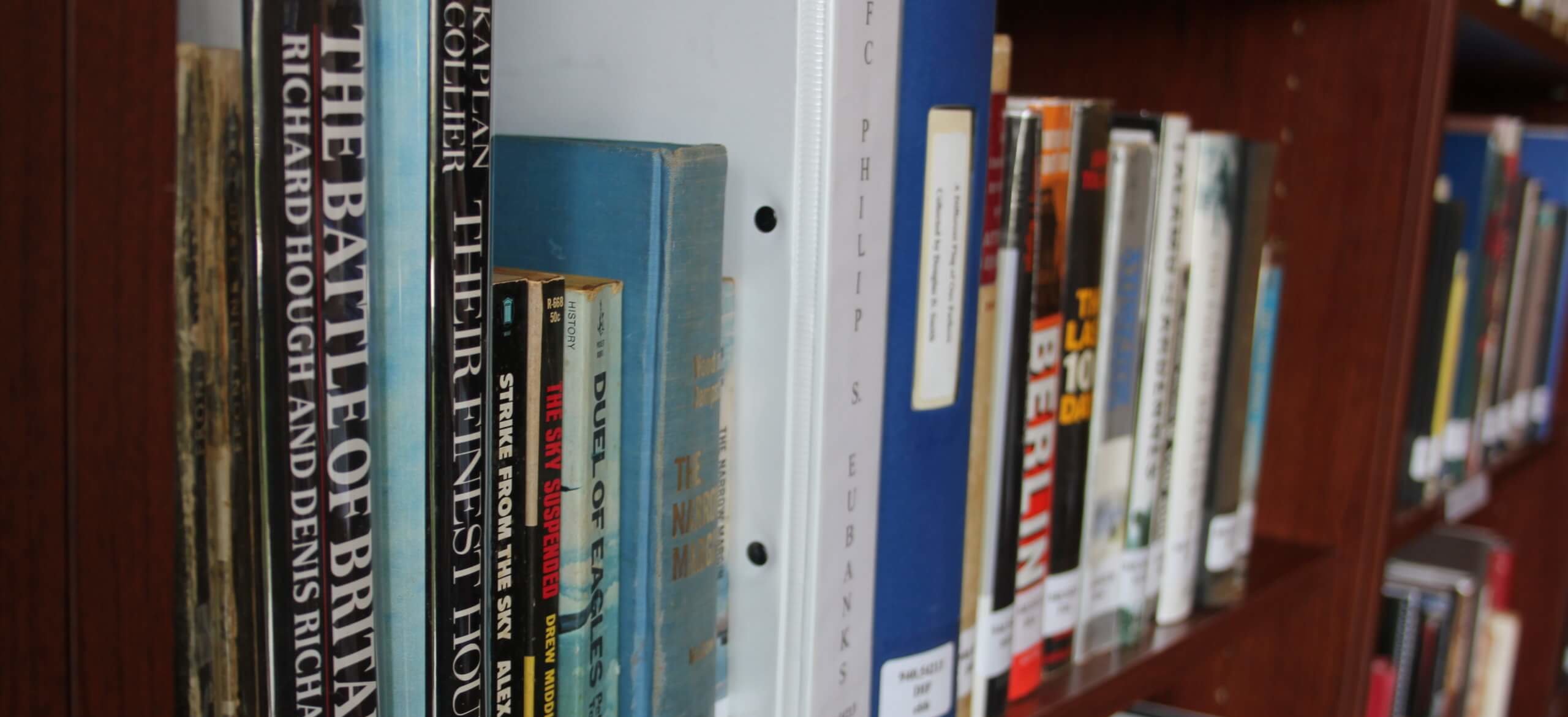 We are excited to announce the new, searchable catalog for the USS Birmingham Research Library. The research library at the Virginia War Memorial is home to 679 works. Our collecting focus is on items that tell the story of Virginia's involvement in war and those Virginians that served. We strive to be a home for titles that are unique, difficult to find, and that are useful for research purposes. Our collection is non-circulating, but we welcome visits from researchers by appointment. (Click here to search or browse the catalog.)
The first donated book for the library arrived in 2000. Then-director Jon Hatfield received a copy of Virginia's War Dead, a book that lists those Virginians killed during World War II. By 2006, the Virginia War Memorial was home to several hundred books, memoirs, and photos.
As the fundraising for the Paul and Phyllis Galanti Education Center was happening, Rear Admiral John Marocchi, a longtime Virginia War Memorial Board Member, reached out to his fellow members of the USS Birmingham CL-62 Association. Admiral Marocchi proposed that the Association raise money to name the planned research library after the USS Birmingham. When the Paul and Phyllis Galanti Education Center opened in 2010, the USS Birmingham Research Library was home to approximately 1,000 titles.
Space limitations led to a reorganization and refocusing of the library in 2017. Mass produced and widely available publications that were easily found elsewhere, and items that were outside of the scope of the library were sold at our annual Book Sale and "Artifacts Roadshow" and in the Memorial Store with the proceeds going directly to the Virginia War Memorial Foundation supporting the Memorial's education programs.
Today, the library continues to focus on Virginia at war, and the role of Virginians who have served. The 2020 opening of the C. Kenneth Wright Pavilion provided a new, dedicated home for the USS Birmingham Research Library, which now also contains the Virginia War Memorial Archives. 
The USS Birmingham Research Library and the Virginia War Memorial Archives are available and open by appointment only. Feel free to contact the Archivist by email (heidi.sheldon[at]dvs.virginia.gov) to schedule a time to visit these collections. 
by Heidi Sheldon, Archivist of the Virginia War Memorial