The Virginia War Memorial Remembers Russell Scott
The Virginia War Memorial mourns the loss of 99-Year-Old World War II Veteran and Long-Time Volunteer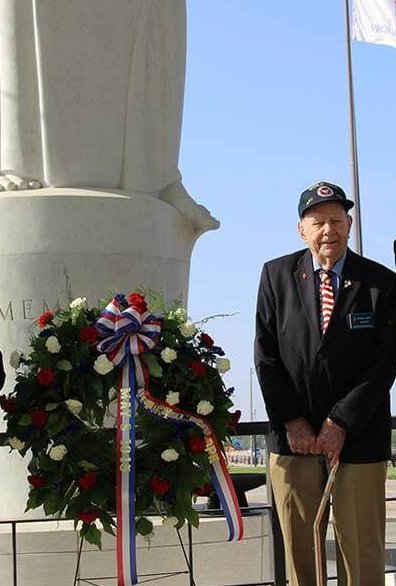 ---
It is with deep sorrow that the Virginia War Memorial family mourns the passing of longtime volunteer and World War II veteran Russell Scott. Mr. Scott passed away on November 19, 2019 at the age of 99.
Mr. Scott had most recently attended the 2019 Commonwealth's Veterans Day Ceremony at the Virginia War Memorial on November 11 where he was recognized and greeted by Virginia Governor Ralph Northam and hundreds of well-wishers as he joined seven fellow World War II veterans also at the event.
"Russell Scott was truly the heart and soul of the Virginia War Memorial. For years, he captivated visitors to the War Memorial, both young and old, with his stories and his charm, said Dr. Clay Mountcastle, Virginia War Memorial Director. "In a place filled with stories of heroism and sacrifice, none have more of an impact or were more popular than Russell Scott's. He was a hero, a treasure, and a true friend. He leaves a legacy that will endure for decades. We will truly miss him, but we will never miss a chance to continue telling his amazing story."
A native of Richmond, Mr. Scott joined the U.S. Army Air Corps in 1943 and was assigned to the 340th Bomb Group. Serving as the tail gunner on a B-25 bomber, "Wabbit Twacks," his airplane was shot down over Italy on May 25, 1944. He was captured and held as a Prisoner of War in Germany until his release in May 1945.
For over twenty years, Mr. Scott volunteered as a docent at the Virginia War Memorial for over twenty years where he often related the story of his wartime experiences with student groups and visitors. He drove himself to the Virginia War Memorial every Wednesday morning to fulfill his weekly shift as a volunteer and tour guide. He was so well known and revered that visitors from throughout the state often traveled to the Memorial on Wednesdays to have the opportunity to meet and talk with him.
In 2016, a replica of "Wabbit Twacks," the B-25 in which he was serving when shot down, was hung in the lobby of the Virginia War Memorial's Paul and Phyllis Galanti Center in his honor. Mr. Scott was the subject of numerous media profiles including featured segments on WCVE television's "Virginia Currents" program and WTVR-TV CBS6's "Heroes Among Us," and in articles in the Richmond Times-Dispatch and other publications. In 2017, WRIC-TV ABC8 produced a special segment in which Mr. Scott had the opportunity to once again fly in a B-25 bomber similar to the one in which he was shot down.