The Virginia War Memorial Remembers 9/11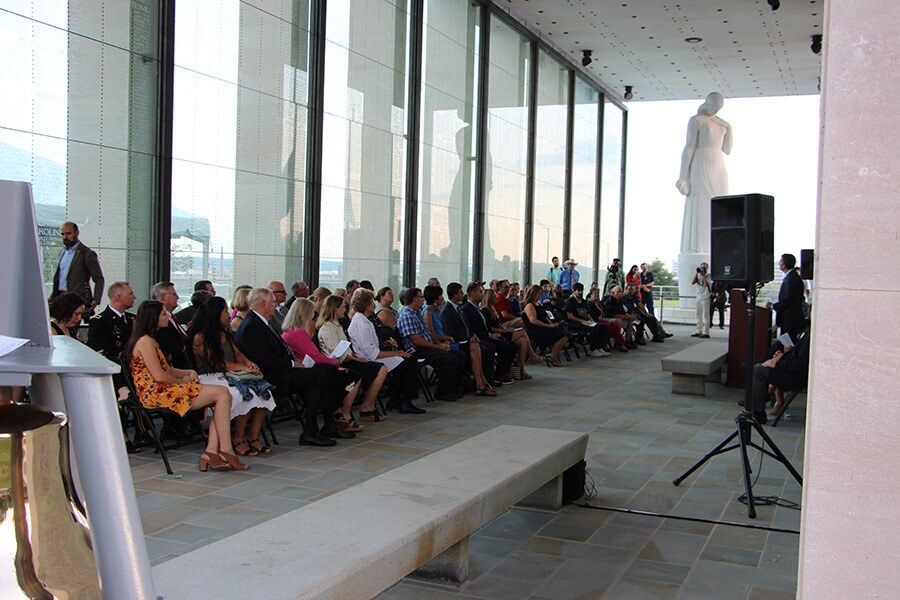 ---
On September 11, 2019, the Commonwealth of Virginia hosted the Annual Patriot Day Ceremony in the Shrine of Memory here at the Virginia War Memorial.
Governor Ralph Northam gave the Keynote speech and was introduced by Kathleen Jabs, Deputy Secretary of Veterans and Defense Affairs. Patriotic music was provided by the 380th Army Band Ensemble from the United States Army and Shannon Lilly, WTVR CBS 6 Reporter who sang the National Anthem and "Amazing Grace".
The bell from the USS Virginia was rung three times by MM1 Jonathan Adams (SW/AW), Navy Recruiting District, Richmond, once for the World Trade Center, once for the Pentagon and once for Shanksville, Pennsylvania. A Memorial Wreath was presented by Governor Northam and Stephanie Sill of the Blue Star Families of Richmond and Chaplain Mike Harman, Retired Chief & Current Chaplain of Hanover County Fire & EMS offered the evening's prayer. After the ceremony, attendees were invited to watch the Virginia War Memorial's documentary, "A New Century, A New War" which shares Virginians' experiences from 9/11 forward.
So much happened on that fateful day in 2001, and the world has so rapidly changed in the 18 years since, that many find it hard to articulate the emotion and meaning of 9/11 in a simple way. During his remarks yesterday, Virginia War Memorial Executive Director, Dr. Clay Mountcastle did just that. We have published it here:
18 years. They are going by quickly now. And while time does heal, it also threatens to soften our memories, to erase the resolve we all had in the months after 9/11 to never forget and to never allow another attack. 
So every year…from today until this great nation ceases to exist, Virginians must remember how 9/11 shaped this country, the sacrifices that were made that day–and the years since–and the path it put us on as a nation.  We must remember those that perished, those who lost loved ones, and those that kept us, and continue to keep us, safe. 
After 18 years we sometimes find ourselves still angry. Still hurt. Still at a loss to comprehend the magnitude of terrible events of 9/11.  But let us also strive to be still proud and still inspired by what followed those events.  Every year, September 11th should be a day marked with memories both painful and proud.
What do we owe to those that lost their lives on 9/11?  What do we owe to their families? Beyond our memories and our thanks, we owe them our commitment to learn as much as we can about 9/11 and teach future generations of it. As the Virginia War Memorial, it is our mission to share the memories and stories of September 11, 2001 with our guests, students, and educators. 
In the War Memorial's collection, we are fortunate to have a section of the wall from the crash site that was salvaged during the restoration of the Pentagon in the months following the attack. Before you depart this evening, I would urge you to visit the lower level of the Galanti Education Center, where this section of the Pentagon's west wing is on display. I would then encourage you to head into Reynolds theater, where we will be showing our 30 minute documentary film – A New Century, A New War – that records the experience of Virginians on 9/11 and the conflicts that ensued.  
Thank you all for attending and remembering 9/11 with us. Let us all ensure that we never stop doing so.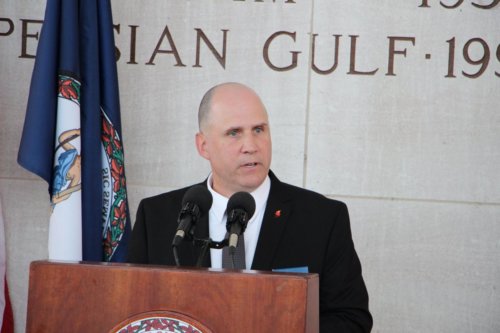 To view more photos from the ceremony, visit our Facebook page.