The Memorial hosts 'Wreaths Across America' Key Exchange Ceremony
On Wednesday, December 15th, the Virginia War Memorial hosted a Key Exchange Ceremony in the Brice Heilman Amphitheater. The ceremony recognized the truck drivers delivering wreaths to more than 2,500 veteran cemeteries across the country, most notably Arlington National Cemetery, as part of National Wreaths Across America Day, taking place on December 18.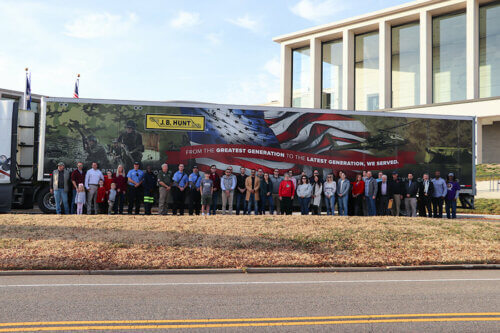 The Virginia War Memorial first hosted this ceremony in December 2019, while the C. Kenneth Wright Pavilion was still under construction. This year's event featured two 53' trucks, wrapped with "Wreaths Across America" designs, parked behind the stage in the new bus loop.
This ceremony is part of a partnership with J.B. Hunt Transport Services, Inc. It highlights the importance of honoring all who have given their lives in service, particularly during the holiday season. The event consisted of brief remarks noting the importance of remembering the fallen, particularly during the holiday season, and the exchanging of the keys between drivers.
Through the month of December, J.B. Hunt will deliver over 207,000 "veteran's wreaths" to veteran cemeteries across the county. The "veteran's wreath" consists of ten balsam bouquets, symbolizing ten qualities all veterans embody. The wreaths are tied with a red ribbon to symbolize a veteran's sacrifice.
This ceremony is part of 38 similar key exchange ceremonies across the country.
---
View more pictures on our Facebook Page.
View News Coverages of this Ceremony: