The Kennedy Assassination: 58 Years Later
Among the Virginia War Memorial's collections are hundreds of letters donated either to the war memorial itself or that historians on our staff have collected themselves over the years. Most of the time, these letters are discussions between service members and their loved ones about the more mundane aspects of home life they miss while away. However, a historian's trade is to find the remarkable among the mundane, utilizing their knowledge of history as a whole to identify it.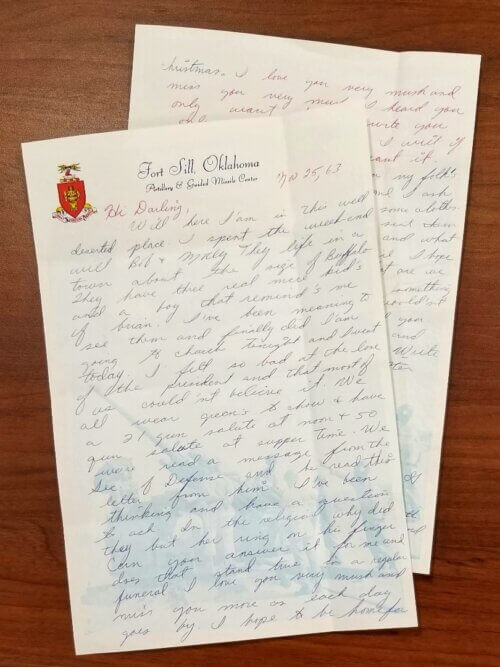 Among these letters is a series written between a young army recruit, Gary Collins, and his high school sweetheart, Michele Jarvis, in 1963. On November 22 of that very year, President John F. Kennedy was assassinated, a tragedy that was discussed throughout all of American society, including Collins and Jarvis.
Presented here are three letters by Jarvis and one by Collins. The Jarvis letters are significantly longer and more detailed. There are several elements of Jarvis' letters one might find striking, from the sorrow and grief at the loss of the President to discussion of her classmate's responses. However, what sticks out most for this writer is the anger directed at Jack Ruby in the second letter. Keep in mind that Jarvis is still in high school, and yet she immediately realizes the implications of Ruby killing Oswald; how it violated the right to a fair trial and prevented the public from ever knowing Oswald's motives in his own words.
The Collins letter is shorter, and may require context. Whereas Jarvis pours her heart out in her letters, Collins was obligated to honor the president as a soldier. The Secretary of Defense, Robert McNamara, sent a message to the troops and 21 and 50 gun salutes were conducted, the latter of which was typically relegated to Independence Day celebrations. Collins also mentions attending church every day since the president was assassinated.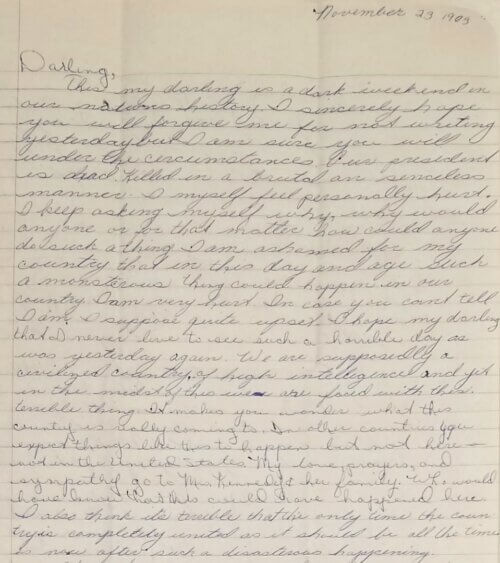 58 years on, the assassination of President John F. Kennedy continues to impact and even fascinate American culture. The Jarvis letter speaks to how it did so from the beginning, not just because of a presidential assassination but also the questions brought about by the killing of Oswald.
Blog post written by Education Intern, Ian Szabo.