Who They Were: Lives Worth Knowing

The names, engraved in stone and glass in the Shrine of Memory at the Virginia War Memorial, spark light in the sunrise and gather shadows at dusk. We often tell visitors that we all die two deaths: the first when our bodies expire, and the second when our name is spoken for the final time.
We will not allow that second death to happen to Virginians killed in combat.
The "Who They Were: Lives Worth Knowing" initiative ensures the stories of Virginia's fallen veterans from World War II through today will be kept alive for current and future generations. As a part of this effort, we are asking each Virginia municipality to honor its sons and daughters whose names are inscribed on the walls of the Virginia War Memorial's Shrine of Memory.
Participating local governments have allocated varying budget amounts for each name on an annual basis. These funds support the programs that connect current Virginians to stories of service and sacrifice and which are available free of charge to all Virginia's students and teachers.
Together, we can REMEMBER WHO THE WERE and HONOR THESE LIVES WORTH KNOWING.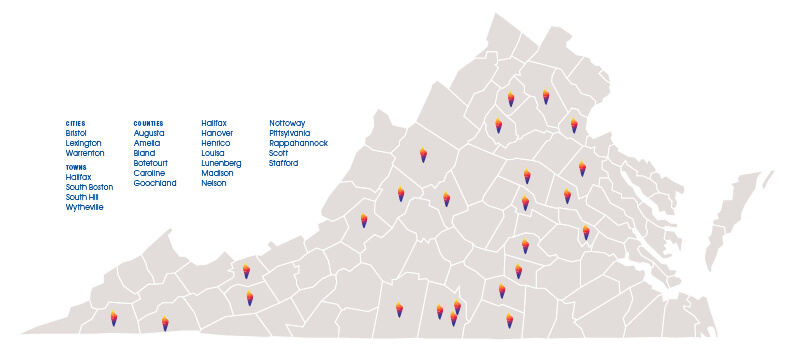 The cities and counties represented here by a flame of patriotism are taking care to speak the names of those to whom we owe so much. Their stories are our mission.
Would you like to ensure that your local heroes' names, enshrined here at the Memorial, continue to be spoken and inspire generations now and for years to come?
Contact our Development Office at mmwachur@vawarmemorial.org today to pledge a contribution or find out more about the Who They Were: Lives Worth Knowing Initiative.