Russell Scott Hall
Russell Scott Hall is named in memory of beloved Virginia War Memorial volunteer and WWII veteran Russell Lee Scott (April 26, 1920 – November 19, 2019).
Russell was born in Richmond, Virginia on April 26, 1920. He was the second of four brothers, all of whom served in the military during World War II. He attended school in Richmond and was working in the automotive industry when World War II began. He volunteered for the Army Air Corps in April, 1943 and underwent more than a year of training as a B-25 tail-gunner at various bases in the United States. He shipped to the island of Corsica in the Mediterranean Sea in May and flew his first mission on April 23, 1944.
He flew his second mission on April 25, but was shot down over Fallujah, Italy. He bailed out at 10,000 feet. When he landed on the edge of a ravine, he broke his back and was taken prisoner by the Germans. He received no treatment for the back injury, which never completely healed. He was taken to a POW camp in Poland, where he stayed until January 1945. He was transported to a POW camp in Barth, Germany in January 1945, where he stayed until liberated in May 1945. Watch Russell tell his story in our Virginians at War – POW (Germany) documentary.
He returned to the USA on June 18, 1945. He received the Purple Heart as well as a number of other medals upon his return. After his discharge from the service, he returned to civilian life in the automotive industry, where he worked until his retirement. He joined Lakeside Baptist Church in 1954 and was an active member the rest of his life. He served in various capacities, including Assistant Treasurer (for 50 years) as well as the Board of Deacons.
He volunteered for more than 30 years at the VA Hospital in Richmond and at the Virginia War Memorial for almost 20 years. He was a legend at the War Memorial where today, his likeness is sitting on the tail of a model B-25 decked out just like the "Wabbit Twacks" plane he flew on during the war. His VA and War Memorial families were very important to him and he had made and retained dozens of invaluable relationships during the years. He was also an active member of the Denny Landrum Chapter of the American Ex POWs and served twice as Commander. He was a member of Northside Masonic Lodge 0292 from 1954 until his death.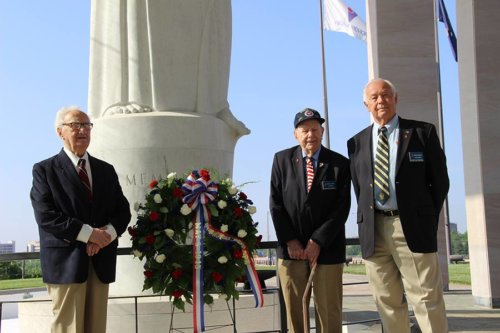 "Russell Scott was truly the heart and soul of the Virginia War Memorial. For years, he captivated visitors to the War Memorial, both young and old, with his stories and his charm," said Dr. Clay Mountcastle, Virginia War Memorial Director. "In a place filled with stories of heroism and sacrifice, none have more of an impact or were more popular than Russell Scott's. He was a hero, a treasure, and a true friend. He leaves a legacy that will endure for decades. We will truly miss him, but we will never miss a chance to continue telling his amazing story."
Today, Russell Scott Hall is used primarily by the Virginia War Memorial's Education Department for school groups and professional teacher development. Teachers and students who visit Russell Scott Hall have the opportunity to learn about and interact with artifacts from the Virginia War Memorial's collection. They can also hear stories from our veteran docents who still tell Russell's story, keeping his legacy alive.