The Paul and Phyllis Galanti Education Center
The Paul & Phyllis Galanti Education Center is named for CDR Paul Edward Galanti (USN, Ret.) and Phyllis Eason Galanti (died April 23, 2014).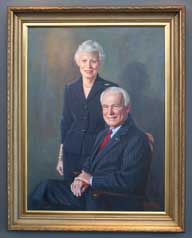 In 2007, the Virginia War Memorial undertook its first major expansion project with the construction of the 18,000 square-foot Paul and Phyllis Galanti Education Center. The Virginia War Memorial Educational Foundation began a public/private capital campaign to raise $2.2 million of seed money, which spurred action and garnered enthusiasm for the project by the Virginia General Assembly. The expansion was dedicated on February 29, 2010.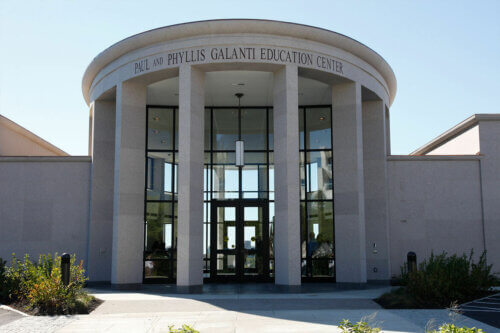 Paul Galanti was a Prisoner of War during the Vietnam era, and previously served as the Commissioner for the Virginia Department of Veteran Services. Galanti grew up in an Army family; his relatives had served in Japan, France, Turkey and Germany. He graduated from Valley Forge Military Academy in 1957 and the U. S. Naval Academy in 1962, where he was the president of his class. He immediately entered Navy jet flight training at the Naval Air Station, Pensacola, Florida. Following completion of advanced training in November 1963, he became a flight instructor in Pensacola. In November 1964, he joined Attack Squadron 216 (VA-216) based aboard the carrier, USS Hancock, which departed for Southeast Asia in November 1965. Galanti flew 97 combat missions in his A-4 Skyhawk before being shot down and captured on June 17, 1966. He remained a prisoner of war of the North Vietnamese for nearly seven years and was released on February 12, 1973.
In June 1966, Phyllis Galanti received a telegram from the U.S. Military. The telegram read, "I deeply regret, to confirm on behalf of the United States Navy, that your husband, Lt. Paul Edward Galanti, is missing in action in North Vietnam… Paul made contact with flight leader on emergency… and said he was surrounded by dogs and people with rifles." After this news, Phyllis spent the next seven years fighting to bring him home. Phyllis Galanti led the area's "Write Hanoi" campaign; her efforts resulted in more than 750,000 letters to the North Vietnamese government. She delivered the letters personally to North Vietnamese officials, and met with the Viet Cong, the Pathet Lao, and The Vietnam Veterans Against the War, as well as President Nixon and Henry Kissinger. She appeared on Today, 60 Minutes, and NBC Nightly News. On January 23rd, 1973, President Nixon announced there would be a peace agreement. Two weeks later, Paul Galanti was freed, along with hundreds of other prisoners of war. Phyllis and Paul were reunited on a freezing morning at Norfolk NAS on February 15, 1973, after more than seven years of separation. Their reunion was featured in Newsweek February 26, 1973.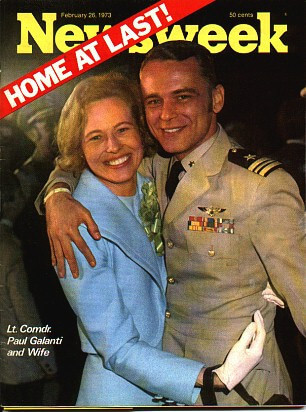 Their sons, James and Jeffrey, were born in 1975 and 1978. After Paul retired from the Navy, the couple returned to Richmond. Phyllis remained active in various civic activities, including The Virginia Home and Theatre IV/Virginia Repertory Theatre. Paul is a member of the board of directors for the Virginia War Memorial Foundation.
The Galanti Education Center features exhibit space, educational spaces, a theater, and an outdoor amphitheater. With this expansion in 2010, the Virginia War Memorial evolved from a passive space for remembrance and contemplation into a true educational institution and museum. It also gained recognition as the premiere state memorial in the United States.