The E. Bruce Heilman Amphitheater
The E. Bruce Heilman Amphitheater is named in memory of WWII veteran Dr. E. Bruce Heilman (July 16, 1926 – October 19, 2019).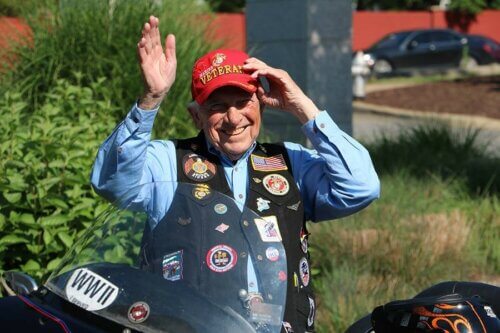 Born on July 16, 1926 into the family of a tenant farmer in Kentucky, Heilman learned to live on hard work, faith, and frugality. An uninspired student who dreamed of becoming a truck driver, he interrupted his farming life when, at age 17, he dropped out of high school and enlisted in the Marines to serve in World War II.
Compared to his daily schedule of farm and school activities, boot camp was good for him – he grew 4 inches and gained 35 pounds in his first four months in the service. Time "on the ground" in Okinawa was not as easy, as he saw countless friends and patriots give their lives for his country.
The Marine Corps broadened his horizons, increased his confidence, and transformed his ambitions.
After an honorable discharge from the Marines, Heilman embraced the GI Bill and restarted his education, ultimately pursuing a career in higher education administration. He served as the President of Meredith College and the University of Richmond.
The E. Bruce Heilman Amphitheater was named by Mr. and Mrs. E. Claiborne Robins.
In 2010, Nelson Byrd Woltz Landscape Architects designed the E. Bruce Heilman Amphitheater to complement the Shrine of Memory and the Paul and Phyllis Galanti Education Center.
The 250-person amphitheater is comprised of five descending semi-circles with stone seats, stone pathways, and native grass plantings. The selection of stone seating and steps along with the plant materials is a vivid extension of the elegance of the Shrine in a landscape form. A rain garden surrounds the stage platform and captures runoff and rainfall at the low point of the site.
The plant palette is predominantly comprised of native groundcovers, shrubs, trees, and grasses.
The Lower Terrace of the C. Kenneth Wright Pavilion, completed in 2019, opens onto the amphitheater to expand access for ceremonies and events.
The amphitheater allows for large public events, including the Commonwealth of Virginia's Annual Memorial Day and Veterans Day Ceremonies, concerts, and more.