Hero Highlight: James "Jimmy" Guthrie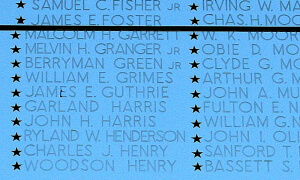 They Gave All TGA 5K presented by Loyalty Automotive
Countdown to Veterans Day is sponsored by Woody Funeral Home & Nelsen Funeral Home
As we "run apart to honor together," we are highlighting heroes from across the Commonwealth who have bravely served. 
---
Virginians have always been proud of their heritage. War is no exception. From the Revolutionary War to the Global War on Terror, Virginia has given, and unfortunately, lost many of its most devoted citizens. James "Jimmy" Guthrie happened to be one of those devoted citizens who felt the call of duty early on in his life.
Hailing from Halifax County, Virginia, Jimmy was the son of a mail carrier who learned at an early age the lessons of hard work, perseverance, and obligation to country.
Enlisting in the Army Air Corps at the young age of 19 after graduating from high school, Jimmy quickly rose through the ranks to Staff Sergeant in the 72nd Pursuit Squadron where he was among the brave aerial engineers and mechanics who worked tirelessly on the maintenance of the planes. At first glance, anyone would have been seething with jealousy after learning of Jimmy's placement at Wheeler Field in Honolulu, Hawaii. That would soon change in the early morning hours of December 7, 1941.
The surprise aerial attack on Pearl Harbor was one of the most horrific moments that has haunted the American memory of war. For Staff Sergeant Guthrie, the morning of that fateful Sunday was like any other. The sun shone brightly through the clouds on Wheeler Field.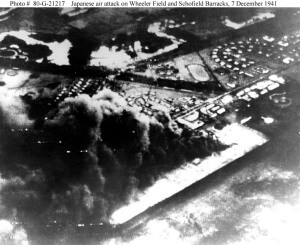 Just months before, Jimmy's good friend, Bill Temple, shared that Jimmy had somehow managed to obtain a date with Judy Garland after she performed for the starry-eyed boys in uniform. "I love that girl," he was once quoted saying. But on the morning of December 7, in just a matter of minutes, those good times would be blotted out by an untimely death. Japanese fighter pilots littered the air field with machine gun fire, obliterating everything, and everyone, in its path. Jimmy was soon killed at his post just before dawn. A day later, the United States declared war on the nation of Japan.
Almost eighty years later, we still honor those men and women who made the ultimate sacrifice for our freedoms we treasure so dear on the glass and stone walls of the Shrine of Memory. Jimmy Guthrie is a part of those many lives cut short but will always be remembered as a 'great guy' with a passion for singing who died a gentleman and, ultimately, a hero.
---
This blog post was originally written by Kyndall Drumheller in 2011.