Hero Highlight: George Washington Jackson, Jr.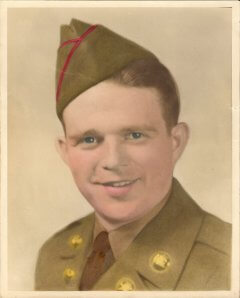 They Gave All TGA 5K presented by Loyalty Automotive
Countdown to Veterans Day is sponsored by Woody Funeral Home & Nelsen Funeral Home
As we "run apart to honor together," we are highlighting heroes from across the Commonwealth who have bravely served. 
---
The Forgotten War.
The Unknown War.
Whatever the name, the Korean War remains a significant part of American history that has sadly been overlooked for the past seventy years. For one young Virginia soldier, Private First Class George Washington Jackson, Jr. and his family, this forgotten cause came with a high price.
George Washington Jackson, Jr. was always known as a caring and unique individual. While growing up in the city of Richmond he showed a strong devotion to the needs of others, especially his family. While attending Thomas Jefferson High School in Richmond, he also worked as a clerk in a local pharmacy taking on the financial responsibility for the household when his father was ill. The hard work ethic that was instilled in George transferred over into his service in the US Army.
After being drafted in October of 1950, George was sent to Korea the following August where he was assigned to the First Target Acquisition Battalion, 25th Artillery, at Camp Nomad Charlie. During his time in Korea, George displayed selfless acts of kindness by teaching English to the children of the neighboring villages. His sister, Frances Curtis, described his thought process by stating, "He utilized his time while he was in the camp to do everything he could to uphold the American ideals."
These ideals became a haunting reality on Thanksgiving Day, November 23, 1951. George and his unit, a sound ranging communications group, were positioned near Kojanhari-Saemal when heavy enemy fire broke out.  Disregarding his own safety, George left safe cover in order to obtain accurate measure from his observation post to the enemy fire. He succeeded in his brave task. But shortly after, he was killed by an enemy mortar round.
As a result of his accomplishment a number of enemy artillery were silenced, saving the men in his unit. His heroism did not go unnoticed. His mother and father received the Silver Star posthumously for their son's gallantry in action. Not only did they receive the Silver Star, but the same camp that had once been home to George during his short stay in Korea was renamed Camp Jackson in his honor in 1966.
These heroes will never be forgotten and George Jackson's own mother was a testament to that idea. Two years after George's death, Mrs. Jackson read of the Gold Star Mothers Convention in Atlantic City. She took it upon herself to start a Richmond Chapter in order to help heal the wounds of the mothers of Richmond who had lost their own children in war. After serving as chapter president twice, she became the National President in 1967. She thoughtfully stated of her service that, "I felt the sting of my son's death very sharply and it was hard to bear, but when I found out the hardships of others, my own seemed very small." Mrs. Jackson ultimately possessed the same strength and courage of her fallen son.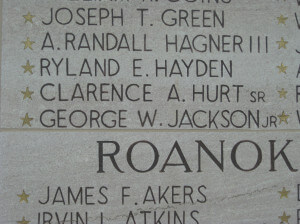 A few days ago I had the pleasure of meeting George's nephew, Wilton Curtis, who shared this wonderful yet tragic story with me. Wilton is one of our most devoted docents at the Virginia War Memorial and is one of the reasons why we can preserve and pay tribute to these truly great stories of sacrifice.
---
This blog post was originally written by Kyndall Drumheller in 2011.