Hero Highlight: Alan Brent Boffman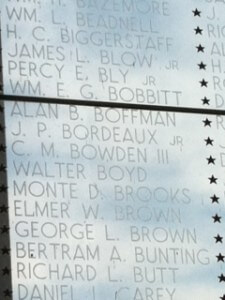 They Gave All TGA 5K presented by Loyalty Automotive
Countdown to Veterans Day is sponsored by Woody Funeral Home & Nelsen Funeral Home
As we "run apart to honor together," we are highlighting heroes from across the Commonwealth who have bravely served. 
---
At the Memorial, we always try to relay the message that every generation has its own fight for freedom. For Alan Boffman, born in Norfolk, Virginia, in 1946, his generation was thrown into one of the most controversial conflicts in United States history; the Vietnam War.
With three brothers already serving in the United States Army, it is no wonder Alan enlisted. Service to country and assisting others was at the top of his priority list. At the age of 24, Alan set off on his final adventure, leaving behind in Norfolk his young wife and baby girl. His mother recollects her last glimpse of her son as he left for deployment. "We took him to the airport in Norfolk," she said, "we said good-bye, and he turned and walked into the darkness of the plane."
When Alan reached his post with the 101st Airborne Division in Vietnam, Operation Lam Son 714 was underway. The Operation consisted of an offensive campaign by the United States and South Vietnamese forces against the North Vietnamese in Laos. The United States was not legally permitted to send ground troops into Laos, so their only viable option was aerial support.
On March 18, 1971, South Vietnamese troops were decimated under an attack by the North Vietnamese. The only remaining troops became surrounded and trapped in a nearby bomb crater. As they were desperately radioing for help, First Lieutenant Alan Boffman and Captain Keith Brandt volunteered to lead a group of Cobra gunships for aerial support. As Alan's helicopter approached its target, the North Vietnamese began firing. The helicopter burst into flames, totally destroying the controls.
As they fell to the earth, the men issued one last message, "I've lost my engine and my transmission is breaking up. Good-bye. Send my love to my family. I'm dead."
For two heart wrenching months, Alan was reported Missing In Action. "At first," his mother said, "I hoped that he was still alive, everybody in that situation does. And I had people tell me, 'You never can tell. He might come back.' But your hopes die after awhile."
On Mother's Day 1971, the United States Army officially declared Alan dead. His family held a memorial service in Norfolk the following Memorial Day. Unfortunately, the actual remains were not recovered until 1990 when United States and Laotian excavation teams discovered the crash site.
Just as every generation has its own fight for freedom, every generation has its own heroes who give all to protect and defend this nation. Alan's heroism will never be forgotten. We honor Alan in the Shrine of Memory where his name is inscribed on the glass panel, along with countless others who gave their lives to protect all that they loved.
---
This blog post was originally written by Kyndall Drumheller in 2012.