Every Day is Memorial Day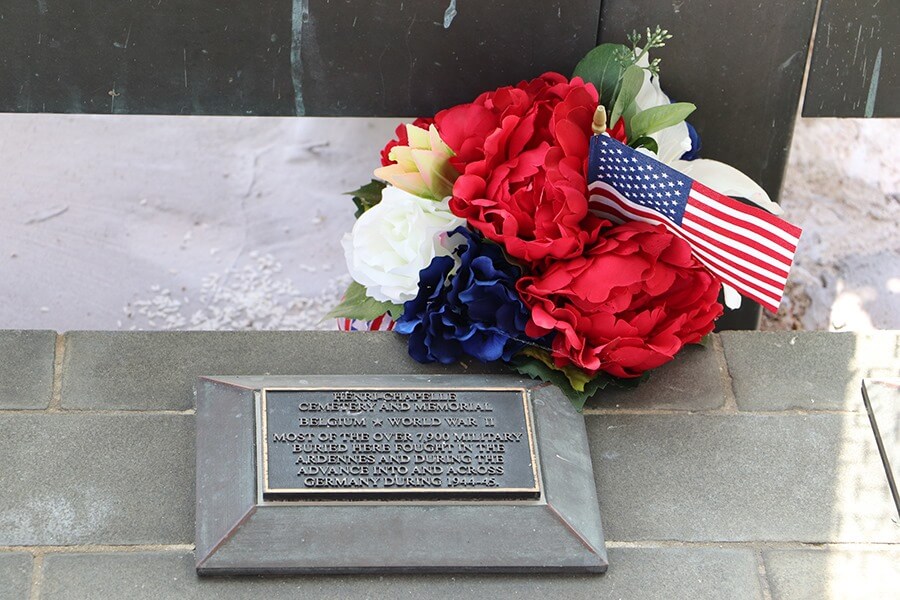 As we move into summer, we thought it would be a good time to revisit this opinion piece, written by one of our Board of Directors. In his recollections Michael Santoro reminds us that at the Virginia War Memorial, every day is "Memorial Day."
The grounds of the Memorial and the Shrine of Memory have remained opened during daylight hours and we hope to be reopening our doors to the public in the coming weeks. We invite all to come visit, view a livestream webinar, and take time to remember and honor those who served.
This column initially appeared in the Richmond Times-Dispatch on May 28, 2016.
---
Honor those who served
Another Memorial Day is upon us. I grew up in a working class town in New Jersey in the late '50s and early '60s. We marked Memorial Day, not at a shopping center checking out bargains, but at the town center participating in a ceremony honoring local fallen veterans. Contingents from all of the town's veterans' groups joined in the ceremony. They formed the color guard, a bugler playing "Taps," and platoons of veterans who rendered a proper hand salute at just the right time in the ceremony.
Most of the veterans at these ceremonies had served in World War II. They were by then in their late 30s, starting to not quite fit in the uniforms they wore in 1945, but still proud of their service and their military accomplishments. Most wore patches designating either their branch of service or the military unit they served with in combat.
My father was one of the young, proud veterans of World War II at those Memorial Day ceremonies. He proudly wore a Marine insignia on his hat and a blue diamond patch with a red "one" and the word, "Guadalcanal" running vertically down the center of the "one."
He was a veteran of the 1st Marine Division and had, as Marines of the day would say, "served his time in Hell" on a little patch of jungle in the middle of the Pacific, fighting the Japanese, tooth and nail, over an airfield that had significant strategic value to both sides in 1942.
The Battle for Guadalcanal involved all branches of the U.S. Armed Forces. History shows the battle was an American victory but it came at a high cost. Even those who survived suffered the rest of their lives from malaria and other tropical diseases and from what we now call PTSD.
My father was a proud veteran of Guadalcanal his whole life. By the time he died at age 91, almost every piece of clothing he owned had that blue diamond, 1st Marine Division, patch sewed on to it.
Fast forward a lot of years and here I am. I graduated from VMI and did my own service in the USMC. I married a Virginia native and consider myself an adopted son of the commonwealth now. I moved back to Richmond four years ago after a career with MeadWestvaco Corp. (now WestRock) that took me out of Virginia for a long time. A few years ago, I was fortunate enough to get involved with the Virginia War Memorial. I go there every Monday to volunteer.
It occurred to me recently that "every day is Memorial Day" at the Virginia War Memorial. The names of about 12,000 Virginians who gave their lives for their country are etched forever into the walls there.
So many names that there isn't room yet to add the names of those killed in the Global War on Terror. So many names that the War Memorial must expand the shrine to honor their sacrifice. Names of 44 Virginians who died at Pearl Harbor. Names of Virginia National Guardsmen from the 29th Infantry Division, including the famous "Bedford Boys," who were killed before breakfast on June 6th, 1944, storming Omaha Beach at Normandy. Names of some of my father's buddies, who died on or around Guadalcanal. Names of so many other Virginians who died in World War II. Names of Virginians killed in Korea, Vietnam, and the Persian Gulf.
Those Vietnam names include four of my classmates from the VMI Class of 1969. Four guys I knew personally and saw every day for four years, who died in service of their country, one as an Air Force pilot, the others as Army officers.
We are at a time in our history when those who volunteer to serve our country in the Armed Forces bear a disproportionate burden in the effort to keep us all free. We must make sure we don't forget their sacrifice, or that of those who have gone before us. One good way is to attend the commonwealth's Memorial Day Ceremony at the Virginia War Memorial. I will be there and so will many others who want to keep alive our memory of Virginia's war dead.
Just like those ceremonies in my hometown years ago, there will be a color guard and a bugler playing "Taps" and veterans rendering a hand salute at just the right time.
If you can't make it to the War Memorial on Memorial Day, stop by anytime. One of the wonderful docent volunteers will be glad to give you a tour. You will be surprised at what is there to see. Stop by the shrine and remember, "every day is Memorial Day" at your Virginia War Memorial.
Michael L. Santoro, Jr. has served on the Virginia War Memorial Foundation's Board of Directors since 2014.