Virginia War Memorial's Annual Veterans Day Ceremony
Please join us on Friday, November 10th* for the Virginia War Memorial's Veterans Day Ceremony.
Veterans Day originated as "Armistice Day" on November 11, 1918, marking the first anniversary of the end of World War I – the 11th day of the 11th month at the 11th hour.
This year, the Virginia War Memorial invites you to join us for our annual Veterans Day Ceremony to honor those who have served and who are currently serving in the United States Armed Forces.
The Ceremony will be held in-person in the Heilman Amphitheater and all are invited to attend. There will be guest speakers, patriotic music and recognition of the winners of the Virginia War Memorial's Veterans Day Student Essay Contest. Stay tuned for updates.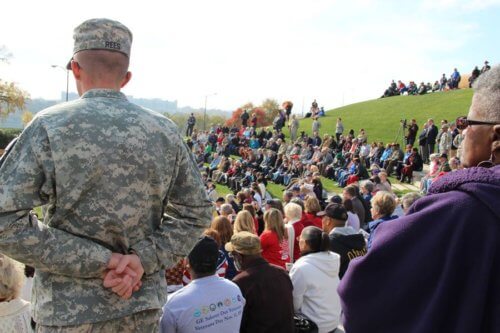 *Please note, due to the running of the Richmond Marathon on Saturday, November 11th the Veterans Day Ceremony has been moved to Friday morning at 11:00 a.m. Are you running the Richmond Marathon? The Virginia War Memorial is proud to be the military appreciation stop along the race route. Stop for junk food and water at Mile 16.