Leadership in America: Fat Boy and the Champagne Salesman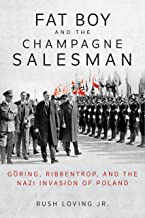 During this Leadership in America program, the Virginia War Memorial Foundation hosts author and leading American railroad historian Rush Loving, Jr.
Loving will discuss his new book, Fat Boy and the Champagne Salesman: Göring, Ribbentrop, and the Nazi Invasion of Poland, (available in Fall 2022) offers a compelling behind-the-scenes exploration of the road to World War II and the invasion of Poland by Hitler's Third Reich.
The book focuses on the personal power plays within Hitler's inner circle. Loving details the struggle for Hitler's approval, long before the battle for Poland had begun.
Reception and book signing following the lecture.
---
Rush Loving Jr. is former associate editor of Fortune and former business editor of the Richmond Times-Dispatch. He is author of The Men Who Loved Trains and The Well-Dressed Hobo. Loving served as Assistant Director of the Office of Management and Budget under President Jimmy Carter and worked as a consultant specializing in transportation economics, issues before Congress, and corporate communication problems.