Dwight Eisenhower: American Patriot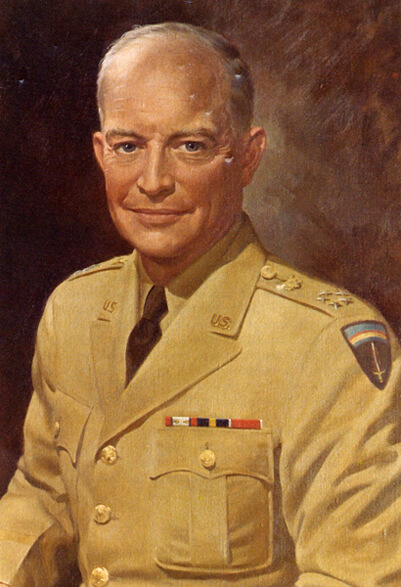 by Aaron Rodriguez, Virginia War Memorial Education Intern, Fall 2020.
The analysis of President Dwight Eisenhower's military expertise and political accomplishments reaffirms his status as one of America's most patriotic presidents.
From an early age, Eisenhower demonstrated a keen interest in military service, honing his mental and physical abilities in preparation for his future career. His mother reluctantly supported her son's career interest, although she herself adhered to a strict pacifist philosophy. His upbringing called into question Eisenhower's value within a military structure that required its members to employ force in order to defend American lives. Nevertheless, the future general would graduate West Point Academy as a prelude to a successful career.
Despite Eisenhower's eagerness, his early army experiences held little promise of advancement, reflecting trends and expectations for many soldiers serving in the armed forces. However, Eisenhower began building a strong rapport with his commander, General Fox Connor.
With Connor's guidance, Eisenhower grew professional connections and resources that not only strengthened his career prospects but also allowed him to confront Douglas MacArthur, a rival colleague in the U.S. military and future presidential candidate. Additionally, during the Second World War, Eisenhower's accomplishments as a high-profile general, from balancing competing ideas of various Allied military commanders to working with leaders in exile, demonstrated his ability to address and resolve conflicts. These developments allowed Eisenhower to transition from an officer largely unheard of in national discourse to a well-respected commander and future presidential candidate.
Although Eisenhower initially anticipated retirement at the conclusion of WWII, the outbreak of hostilities with communist forces during the Korean War encouraged him to remain in service, further demonstrating his singular selflessness and patriotism. Prior to 1952, many Republicans believed that General Douglas MacArthur, renowned for his service during the Second World War, would become the next Republican presidential candidate. However, congressional scrutiny in the wake of MacArthur's dismissal caused many Republicans to question whether the general could obtain sufficient support. In the absence of a viable alternative, Eisenhower would not only accept the Republican nomination, but also win the 1952 Presidential Election and achieve re-election in 1956.
These examples of Eisenhower's patriotism and public service highlighted his leadership abilities and commitment to preserving American democracy.
---
Aaron Rodriguez is a graduate student at VCU who will receive his M. A. in history in May 2021. He is a scholar, historian and aspiring writer.