A Socially Distant Independence Day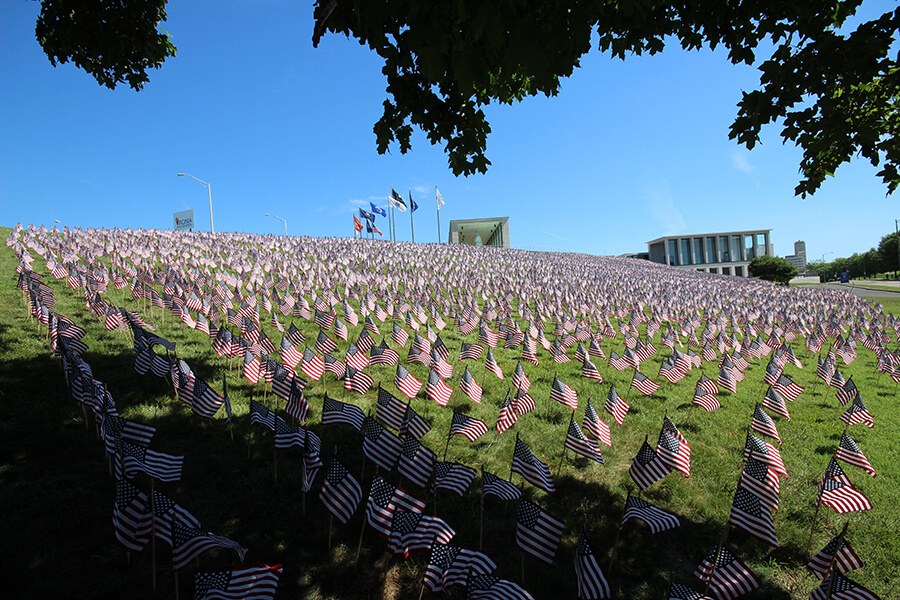 This year, as the United States of America approaches its 244th birthday, our 4th of July celebrations will be less conventional than in past years. Mine certainly will. Instead of going to a pool party, cheering on the Flying Squirrels, and watching Richmond's fireworks from the rooftop of my apartment building, I'm instead going to visit my family. At a safe distance. In my brother's backyard. I also plan to be spending much of the weekend packing my apartment to move to a space that provides a slightly more functional environment for the brave new world of working from home, homeschooling, and quarantining.
The subdued nature of this year's July 4th has made me all the more proud to be a part of the Virginia War Memorial's "Hill of Heroes" flag installation. For me and my colleagues, Independence Day officially started last Friday, June 26, when we assembled with almost eighty volunteers to place flags on the hillside of the Memorial grounds. The 12,000 flags places on the hill represent the nearly 12,000 Virginians who were killed in action from WWII through today. The project is even more meaningful this year because, earlier in the spring, when almost all of the staff was working remotely, we were unsure if we would even be able to create a "Hill of Heroes" this year. With questions about public heath and how to keep volunteers safe, many of us worried the installation would be canceled, as have so many of our events for this year. I am grateful not only to be able to have helped in creating this installation for the public to see over Independence Day, but also for the enthusiasm of the volunteers who gave up their time on a hot Friday morning to come participate in the project.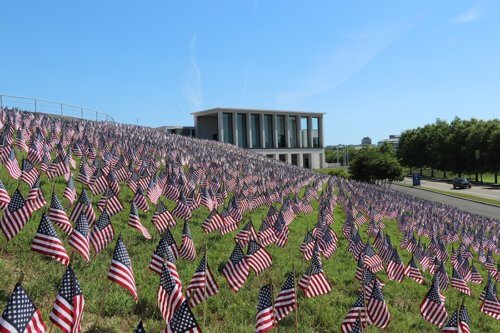 My fellow staffers and I have only recently returned to our offices in mid-June, and, and I believe I speak for all of us when I say being here at the Memorial, seeing the flags decorating the hillside,  and reading the names of those brave men and women on the Shrine of Memory helps remind us why we do what we do. I hope coming to the Memorial inspires everyone with the same feelings of patriotism it does for me. While the holiday weekend may not be celebrated in typical fashion, it is my hope that the Hill of Heroes provides a cue to pause and remember the values our country holds dear and give thanks to all who have bravely served to protect those values.
The 12,000 flags planted on the hill will remain in place through Thursday, July 9th, and represent the nearly 12,000 Virginians who were killed in action from WWII through today. Those Virginians who fought to protect the freedoms and liberties the founding fathers first outlined on that fateful day in July 1776.
I hope you have a safe, happy, and socially distant 4th, and I invite you to come visit our Hill of Heroes.
written by Mary-Michael Wachur, Director of Development for the Virginia War Memorial Foundation