A Call from Home, A Loss Hits Home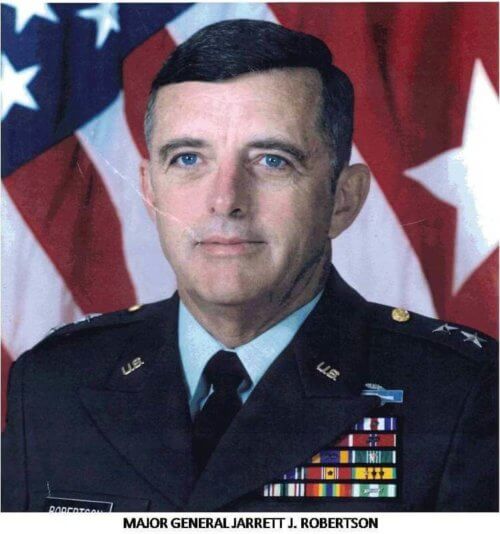 A message was delivered to my barracks room in late February of 1993. It said simply "call home."  As I made my way down to the payphones in the concourse, where all VMI cadets had to go to make a call, I wondered what the news would be. Perhaps my parents were on the move again to the next military base. Maybe some ROTC paperwork for me had been mistakenly mailed to them (a common occurrence.) 
When my father answered the phone back home, he instead told me that he had some "very sad news." A couple days before, a Black Hawk helicopter had crashed near Wiesbaden, Germany killing four servicemen and badly burning four others. One of those killed in the accident was US Army Major General Jarrett J. Robertson. 
My heart sank. I did not know General Robertson personally, but I certainly knew of him. One of his daughters, Hayley, was a good friend of mine from high school. We had shared stories of growing up as Army kids, from my time playing in the German woods to her great dislike of the huge cockroaches in El Paso, Texas. We talked about our dads, both tankers. We looked up to them. Now, suddenly, her dad was gone. And since I talked a lot about Hayley when I was at home (let's just say I was a big fan) my dad just thought I should know. 
Soldiers like Jarrett Robertson aren't supposed to die in freak accidents. General Robertson was what we in the Army would call a "badass." He received the Silver Star for valor in Vietnam while serving as a cavalry troop commander, one of two combat tours.  He ran the Operations Group at the National Training Center in California and commanded the 3rd Armored Cavalry "Brave Rifles" Regiment. He helped lead the 1st Armored Division to victory in the Persian Gulf War as Assistant Division Commander (temporarily assigned from the 3rd Infantry Division.)  At the time of his death, he was the Deputy Commanding General for US Army V Corps. A former commander described Robertson as "a superb soldier and great cavalryman" who displayed "an infectious confidence."  My father, who knew him, put it simply, "he was a great, great guy."  Leaders such as this – badasses – are expected to grow old and tell war stories or, perhaps, to die on the battlefield.  The fact that this warrior was lost to a helicopter crash, during peacetime, has always seemed wrong to me – and unfair.  
It is also wrong, in a way, that Major General Robertson's name is not one of those listed in the Shrine of Memory at the Virginia War Memorial. There is a reason for this, however. He was a Missourian, born and raised, and now buried there. He also died in peacetime and the Shrine of Memory contains only the names of Virginians killed in action.  But there's no doubt that his heart, soul, and memory largely reside in the Commonwealth in the form of his family.  His former wife and their five lovely daughters all made Virginia their home, now with growing families of their own.  They are his legacy, his roots, and they will bind him forever to Virginia.  Those roots, too, should be honored.
This Memorial Day, we should make particular effort to remember not just the names of the fallen, but their families as well. Those who wake up each day with the memories of a loved one ingrained in their hearts, for whom every day is Memorial Day. The Virginia War Memorial will continue to honor the fallen, to preserve their history, and to tell their stories – not only for those lost, but also for the families. Therefore, on this Memorial Day I'll not only be thinking of fallen warriors like Major General Jarrett J. Robertson, but I'll also be thinking of Hayley and her extended family.  They, and all the families of the fallen, deserve our thanks for sharing their hero's memory with all of us. 
written by Dr. Clay Mountcastle, Director of the Virginia War Memorial