Capital Campaign
Speak Their Names
A Campaign for the Virginia War Memorial.
Together, we can make sure that they are known, their stories are told, and their names are spoken.
The names, engraved in stone, on walls of glass, spark light in the sunrise, gather shadows at dusk. Nearly 12,000 in all, they are Virginia's war dead. Each name is a story of service and sacrifice, bravery and patriotism. Each name is a story of a life cut short, of family and friends left behind. And just as those engraved names bear the morning sun and evening twilight, their stories hold our own history. Their stories are our mission.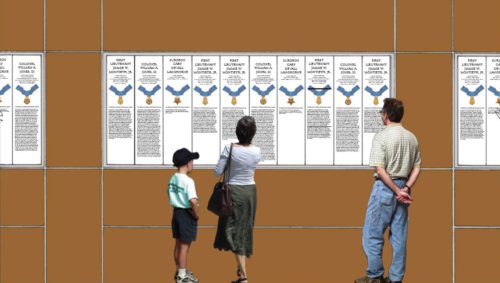 Since its dedication in 1956, the Virginia War Memorial has honored Virginians killed in service from World War II until the present. In addition to our 12,000 war dead, the Virginia War Memorial also salutes the nearly 800,000 veterans who call the Commonwealth home, and for the past decade has delivered highly-sought-after programs that educate schoolchildren and others about war's impact on Virginia and about the men and women who have served.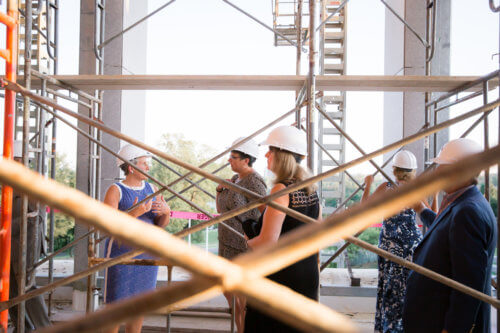 Interest in our veterans' stories has never been higher, and the Virginia War Memorial is at a crucial stage in our existence. Visitation has increased over 500% in the past eight years. Educational programs are routinely oversubscribed. The strain on our current resources means we must act if we are to continue as the finest institution of our kind in the nation. Fortunately, the Commonwealth of Virginia recognizes this need, and has responded by generously funding a major expansion to our facilities. This facilities expansion includes:
Expanding our Shrine of Memory
Establishing the Virginia Medal of Honor Gallery
A distance learning/oral history studio and research library
A veterans' arts gallery
A space that can be a 325-seat lecture hall or two classrooms
And while the Commonwealth of Virginia is providing an inspiring space, the Virginia War Memorial Foundation has a key role in bringing the space to life. Its spirit should reflect the same sense of purpose, dedication, and sacrifice as those whose names grace our walls. The Speak Their Names Campaign will provide the Virginia War Memorial with the tools and furnishings necessary to connect our veterans' stories to all Virginians of all generations.
Our goal is $2.5 million, and with your contribution you can help ensure that our veterans' sacrifices continue to be gifts that inspire us and our children.
Together, we can make sure that they are known, their stories are told, their names are spoken.
---