Henry Rawlings Hamner
Lieutenant, Navy
Born: March 13, 1922
Hometown: Lynchburg
Served In: World War II
Casualty Date: April 6, 1945
Died In: Okinawa
Awards: Silver Star, Purple Heart
Lieutenant Hamner served aboard the USS Howorth (DD-592).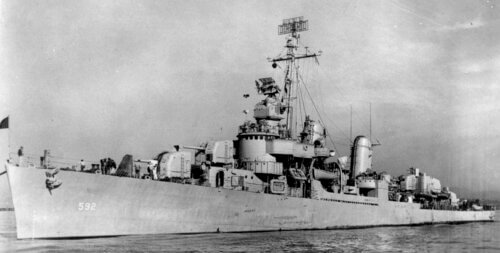 "Pete" attended E. C. Glass High School and graduated with the 1943 class from the U. S. Naval Academy in June 1942 because of the war.  While at the academy, he was on the tennis and swimming teams.   He was employed by Harvard University as a an instructor in the Naval Training School.
On April 6, 1945, more than 200 Japanese suicide planes attacked the US ships at Okinawa.  Lt. Hamner was the Gunnery Officer and six enemy planes were shot down, a seventh crashed into the ship's main directory killing Lt. Hamner and eight others.  He is buried in Arlington National Cemetery.
In November 1945, the destroyer USS Hamner (DD-718) was named in his honor.