Sat. 3/18 Cancelled – Theatrical Production: "War in Pieces"
***Due to someone in the cast testing positive for COVID-19, the performance on Sat. March 18th is cancelled.***
A festival of one act plays written by veterans
The Virginia War Memorial Foundation will present four one-act plays written by Virginia Veterans, which will be professionally produced and performed with leadership from Virginia Repertory Theatre, under the program title, War in Pieces.
Tickets are General Admission and on sale via the Virginia Repertory Theatre website for $25.
Performances take place at the Virginia War Memorial in VMI Alumni Hall on the following dates:
Friday, March 17 at 7:00 p.m.
Saturday, March 18 at 7:00 p.m. CANCELLED
Sunday, March 19 at 3:00 p.m.
Thursday, March 23 at 7:00 p.m.
Friday, March 24 at 7:00 p.m.
Saturday, March 25 at 7:00 p.m.
Sunday, March 26 at 3:00 p.m.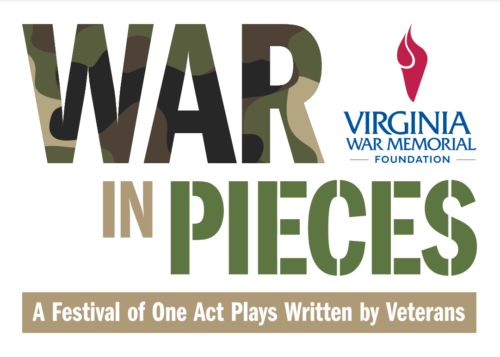 This project is proudly supported by The Carpenter Foundation.
This Season's Play Titles and Descriptions:
The God of Baghdad by Philip Trezza: A young Army medic, the first to respond to a car bombing in Baghdad, finds himself playing God, determining which victims may live and who cannot be saved.
Dress Code (by Joseph Maslanka): Recently out of the Marine Corps, Joe returns to work in the family bar in Philadelphia. A couple of patrons push his buttons, and he has to figure out if he's ready to be an ex-Marine.
Living on a Prayer (by Rev. Laura Bender): A twenty-five year Navy/Marine chaplain answers the call for everyone in need, the wounded, the bereaved, the homesick and the frightened. But who does she talk to?
King Baby (by Daniel Barotti): Crossing The Line is a time-honored seaman's tradition whenever a vessel crosses the equator. But this time, a leviathan Chinese destroyer shadows a U.S. Navy ship, putting the celebration at risk of an international confrontation at sea.